About Nilsson Legal Group
Individuals in the midst of a divorce or other family law issues face many challenges. At Nilsson Legal Group, PLLC our compassionate and experienced divorce attorneys can help to take some of the burdens off you while providing personalized and caring service in Fort Worth, Texas. We understand how emotionally draining it can be to cope with a divorce or another contentious family law matter.
Divorces are never easy, even under the best of circumstances. In many cases, it's common for disputes to emerge which can make an already difficult situation highly stressful. At Nilsson Legal Group, our mission is to provide you with superior family law services and help you transition to the next phase of your life with as little stress as possible.
Our firm is 100% focused on family law. It's our specialty. We proudly offer a wide range of legal services under the family law umbrella, including but not limited to: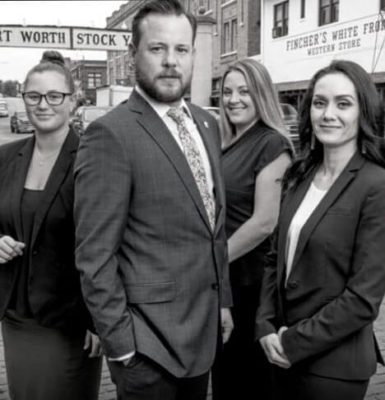 The Nilsson Legal Group has been assisting Texans with their family law matters since 2013 and our legal team is fully committed to managing all of the important details associated with a case.
With one of our skilled divorce attorneys at your side, we will work hard to ensure the best possible outcome in your divorce and any other related family law matters you face.
Our Fort Worth Divorce Attorneys and Staff
As native Texans, our attorneys are fully versed in Texas family law and are here to help.
Spencer Nilsson founded Nilsson Legal Group, PLLC in 2013. As one of the most advanced and innovative attorneys in the legal industry, Spencer has dedicated his career to helping others in a variety of capacities. He is a member of the State Bar of Texas, Tarrant County Bar Association, Tarrant County Young Lawyers Association, the Fort Worth Club, and Mensa.
Kimberly Buck can't remember a time when she wasn't passionate about the law. As a certified paralegal, Kimberly brings a vast amount of legal experience to Nilsson Legal Group, but her current specialty since 2010 is family law. She is a member of the Fort Worth Paralegal Association, the Paralegal Division of the State Bar of Texas, and the Tarrant County Family Law Association.
Stuart Armstrong Adrian began his career in the Oil & Gas industry. After three years, he returned to law school, and, since that time, Stuart has successfully tried numerous family law cases. He is highly skilled at helping clients with settlement negotiations and brings a vast amount of experience to Nilsson Legal Group.
Heather Lawrence is a legal assistant for Nilsson Legal Group. She is highly skilled at her job, which includes a variety of responsibilities including drafting pleadings, file management, client intake, and payment processing.

Free Consultations
Need a divorce lawyer to handle your legal matters? As a premier family law firm in the city of Fort Worth, the goal of Nilsson Legal Group, PLLC, is to help our clients in the region transition through life's difficult situations. We pride ourselves on making sure our clients are prepared to make informed decisions about their legal matters. We are here for you and want to help. Contact us today at 817-953-6688 for a free consultation.